Nordic Testing Days 2015
was my first European testing conference, both as an attendee and a speaker. I really enjoyed my time in Estonia. It was fantastic to listen to, and learn from, a set of speakers that I have never heard before. I also enjoyed meeting a number of people that I have previously only known through Twitter.
As a speaker, I presented a two-hour workshop on the first day of the conference titled "
Become someone who makes things happen
". I was nervous about presenting this to an international audience. I needed people to interact with one another for the workshop to be successful, so it was a relief to have a group of participants who were prepared to discuss, debate and role-play scenarios.
On the second day of the conference I was a last minute replacement for a speaker who was ill, delivering a presentation titled "
Sharing testing with non-testers in agile teams
". This was a repeat of a talk I gave several times last year.
I'm particularly grateful to those who have included one of my sessions in their highlights of the conference:
Of the sessions that I attended, here are my key takeaways.
Security Testing
I started the conference by attending a full day tutorial titled
Exploring Web Application (In)Security
.
Bill Matthews
and
Dan Billing
presented some fundamentals of security testing by providing an intentionally vulnerable application. Each participant installed the application on a local virtual machine, which meant we could all independently exploit it - a fantastic learning environment.
This session was the first time I learned about the STRIDE security testing mnemonic, which I captured in a mind map format: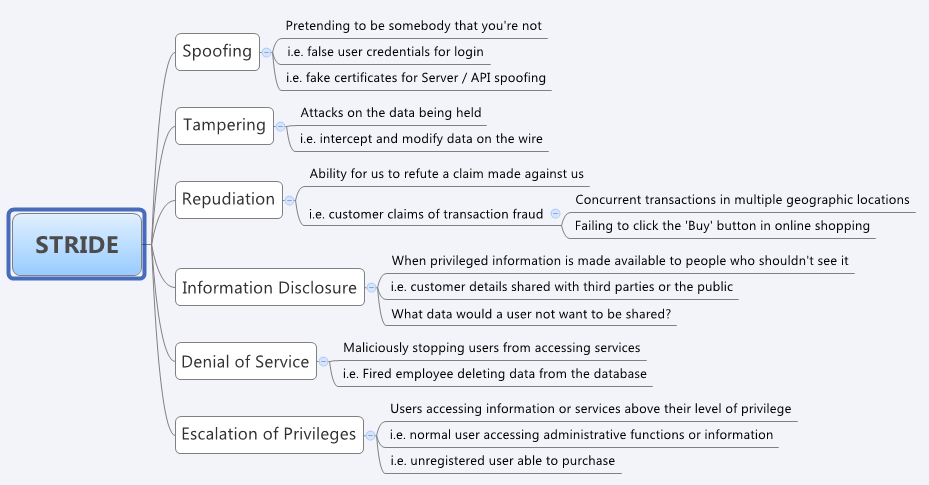 Effective Facilitation
Neil Studd
presented a session, which I only later realised was his first full-length conference talk, on
Weekend Testing Europe: A Behind-the-scenes Guide to Facilitating Effective Learning
.
As a co-founder and intermittent organiser of
WeTest Workshops
MeetUp in Wellington, it was great to listen to some real-life experiences of selecting and facilitating practical workshops. I particularly liked the reminders about the limits of the facilitation role including "
each attendee has their own light bulb moment, don't try and manufacture one
" and "
attendees are there to learn from each other and not just the facilitator
".
I took the opportunity to talk to Neil after his presentation, as I had some specific questions for him. As a result I'm definitely planning to use the
Weekend Testing Europe archive
as a resource in future, both for internal and external workshops.
Gamification
Gamification is something I'd heard of, but never dug in to.
Kristoffer Nordström
shared his experience of engaging end users using gamification: game techniques in non-game situations to motivate people and drive behaviours.
I found his experience report really interesting and would encourage you to look through his slides in the
Nordic Testing Days Archive
. Though I'm not sure whether gamification will work in my organisation, or where it might be applied, this talk certainly gave me a better understanding of how others use it.
Bad Work & Quitters
Rob Lambert
delivered a keynote on
Why remaining relevant is so important
. The point that particularly resonated with me was perhaps tangential to the main topic, his view of "bad work".
Rob talked about how it seems that quitting has become trendy with many people voicing their opinions about leaving a place that does "bad work". He questioned the definition of "bad work" by challenging how much of the concept was based on perception.
Rob also said that "
sometimes 'bad work' is where the real change happens
". This made me reflect on the opportunities I've had to make change. Perhaps it is from the worst situations that we can make the biggest difference.
Reflection
Erik Brickarp
delivered a really interesting experience report on
Going Exploratory
. As he spoke, Erik repeatedly reiterated that he learned from attempting to implement change through regular reflection. Only when he stopped and thought about how he was working did he have the opportunity to realise how he could have approached things differently.
Erik said "whenever I feel like I don't have time to reflect, that's a strong indication that I should stop and reflect." This was a good reminder to me. When I'm busy at work, that's when I need to take the time to pause and assess.
*****
I really enjoyed my experience at Nordic Testing Days. Thank you to
Helena Jeret-Mäe
for selecting my workshop as Content Owner,
Kadri-Annagret Petersen
for being my track co-ordinator, and
Grete Napits
for running a fantastic conference. I hope to be back again in the future.